A big part of what makes Queen St. Fare a food hall, and not a food court, is the attention paid to the interior design.  The people responsible for making this happen are Ottawa-based designers Iron and Ivory (Iron △ Ivory).  
Rnea Garrah and Kayla Pongrac built their firm around three basic principles:
Durability: Design must have the ability to withstand usage and the passage of time.
Function:  The space must be useable and be mindful of how people use it.  
Beauty: Last but not least, it needs to catch the eye to excite the sense.
Ottawa foodies might be familiar with their work at local hotspots Pure Kitchen, Fairouz, Burger & Fries Forever and Common Eatery, to name a few. 
Their goal, according to Kayla, has always been "to create divergent concepts, which bring narration to design… a story about art, food and the culture of design as inviting as it is innovative."  
Queen St. Fare's Interior Design
Rnea and Kayla are also experienced in interior design of food halls, having designed a number of the vendor booths at Toronto's Assembly Chef's Hall.  
Much of what they learned on that project, they've brought with them to Queen St. Fare, where they designed not only the booths for five of our seven food and drink vendors, but also the entire common area including the furniture, finishes, lighting and almost every other detail of the space including art, signage and wayfinding.
Queen St. Fare's brand is about going places, movement and sharing.  It's not just a place for the daytime, it's a place with distinct personalities in the evening and on the weekend.  It's a place for a quick lunch, a dinner with friends or a big night out.  From a visual design perspective, you'll notice strong elements of Art Deco across almost every element of the branding, and this carries into the design of the space itself.  
That's because Art Deco design was a prominent feature in the early years of public transportation and remains a strong design style in many of today's great transportation hubs.  The interior aesthetic goal at Queen St. Fare was to embed subtle Art Deco motifs in an industrial space to allude to the notion of a familiar transit environment.  Communal tables promote conversation amongst individuals in transit.  Q Bar provides a comfortable seat for that break between working hours or the next journey.
Iron and Ivory is collaborating with Canadian artist Kathryn Macnaughton to give the food hall a playful punch of color using soft movements and a more modern Art Deco vibe.
You'll see Kathryn's original work on the wall behind the stage: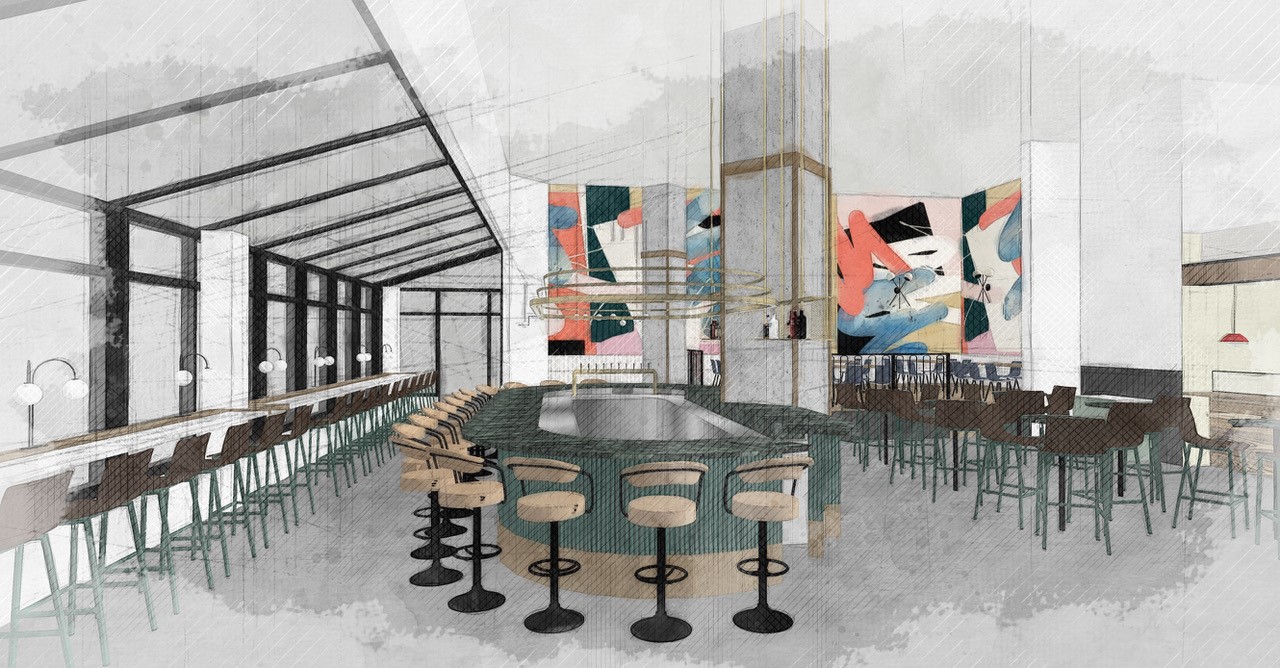 Everyone who has been working on Queen St. Fare is excited about the design of the space and we can't wait for everyone to see it and #ExperienceQueenStFare for themselves.